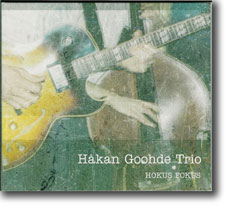 The second release on the GASON JAZZ label is this debut album from Håkan Goohde Trio. Chamber music jazz is an exciting and adventureous snapshop through the ideas of a very tight playing trio, giving lots of room for breathing and contemplation between the forceful twists, presenting strong and varied tracks that not always turn in the direction you expected.

The CD was recorded at Fasching in Stockholm.
Featuring guitar player Håkan Goohde, bass player Nils Ölmedal and drummer Jon Persson .